Want to know how to build a tiny home like this
Do you Dream of being able to build your own Tiny home but don't know where to start. I know its difficult to know where to start when dreaming of having your own Tiny home, do you build your own but HOW do i do it, Right. The questions you ask yourself is how do i know how to build one to ensure it has all the essentials I need from does it need to be 2 story, 1 story, with or without a loft, extra kitchen space or even down to it being on a trailer or ground. With Humble-homes beautiful designs anyone without any experience can build there perfect home. However it is suggest that for some of the works like the plumbing & electrics to get a professional. With Tiny Home Builders you can get the prefect plans.
What To consider for tiny home plans
when searching for a Tiny home plans there are things that you need to think about before you purchase, as not all plans are the same
Intended Audience - There is an aspect of tiny house plans that is often overlooked: the experience level of the reader or builder. In a standard house plan, for instance, the floor plan is followed by a detailed diagram that shows how the materials fitting together at specific locations in the house (such as above a window or on the roof). As a result, the builder will need to fill in the gaps with his knowledge. If drawing every stud would be overwhelming and overly verbose, this method makes sense for larger projects. If you're not an experienced builder, this style of plan can leave out important details you need. Consider plans that are do-it-yourself friendly if you are new to building.
Source - The source of the plans is another important consideration when evaluating them. I want to know whether the author is qualified to write this book as well as whether they have built any houses using their plans. Understanding the principles of proper construction is one thing, but knowing how to use a software program like SketchUp is entirely another. In the absence of knowledge of the right building techniques, it can be difficult to determine if someone else knows them. We don't know what we don't know, after all. It helps to identify those who are more qualified if they have built at least one, preferably many, houses of the design you are considering. Multiple copies of the same house give the designer a chance to work out any kinks that may have been accidentally included in the first iteration. Tiny Home Builders only sells plans for houses that they have already built themselves.
Material List - It is impossible to overstate the importance of a detailed material list. A material list can save you both time and money, often exceeding the cost of the plans themselves. With a material list you can significantly decrease the number of trips to the store since you will know what you need before you begin. It can be incredibly frustrating to buy all the supplies you expect you will need for the day only to return to your worksite and realize you forgot something and have to return to the store. If the store is not located near by it can consume most of your day just returning back to the store.
Format - you will want to consider the format of the plans you are buying. Some plans come in a changeable format, like SketchUp or AutoCad, while others can only be printed. This can be extremely important if you are considering changing the plans from what the original builder designed. On the other hand, if you want to build exactly what the originally builder built, the plan format is not as important.
When your tiny house plans come in a change friendly format, any changes are considerably easier for you or an architect to make. If the plans come only as paper plans or a pdf you print yourself, any changes will require the plans to be recreated in an editing tool, again like SketchUp, and then the changes applied. This process can add considerably to the cost and time required to implement your changes.
Building plans that cover all your needs to construct your perfect tiny home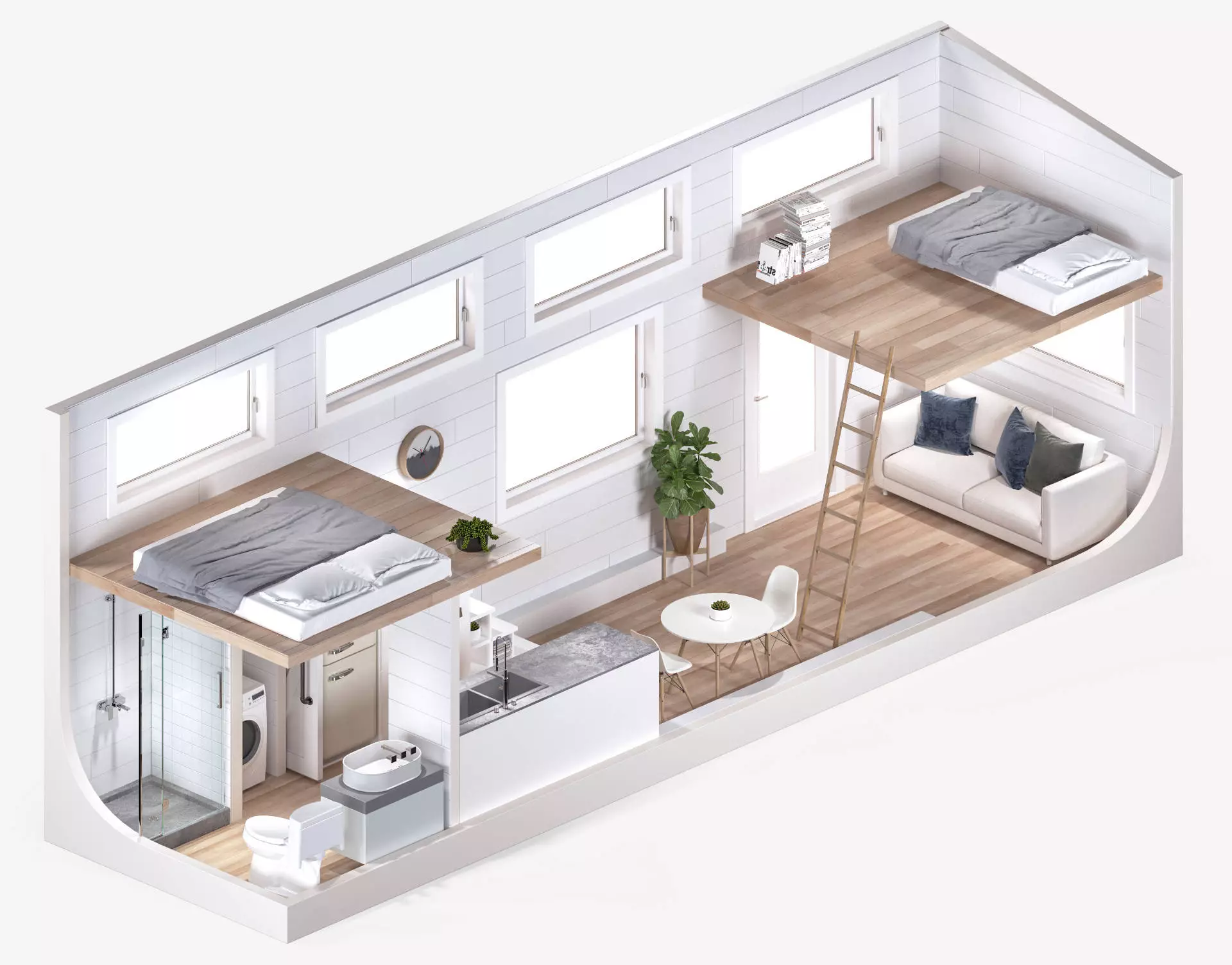 Get all your tiny home building designs from foundations to components
Building your perfect tiny home could not be set out any easier with Tiny home Builders plans. there layout is so easy to pick your perfect plan. But what you get in the plans is the question you need to know, as not all plans are the same. see below whats covered in the plan
Large Format Print - Each of our tiny house plans are printed on 18 x 12 inch sheets of paper. This large size makes them easy to read and provides enough room to fit all the relevant information per step on a single page. This eliminates the annoyance of having to flip back and forth between multiple sheets while working on a single part of the house.
PDF Instant Download - There plans are also delivered to you instantly in PDF format. This allows you to start planning right away on building your tiny house. This also comes in handy in the event the original plans are damaged during construction and they need to be reprinted. We've had our plans accidentally blow away a few times while building.
Easy To Understand - There plans are easy to understand. While they are complete enough for a professional contractor, they are also easy enough for the novice to comprehend. We believe that there is no such thing as too much information. Normal plans typically only show section diagrams with the contractor left to fill in the gaps, we show every piece of framing lumber.
Comprehensive Materials List - There tiny house plans include a detailed, itemized material lists. This list allows you to minimize the number of trips to the store while also taking advantage of significant bulk discounts at the home improvement retailers. These discounts typically exceed 3 to 4 times the cost of our plans.
SketchUp Model - The SketchUp model allows you to view the house in 3D and to take any measurement and see how every board fits together. You can even import furniture into SketchUp to see what your house will look like once complete. Having the model also allows for you to make any modifications that you want and then recreate the plans
Electrical Diagram - In addition to the framing and sheathing information, we also provide an electrical diagram that shows the placement on all the lights, switches, and outlets. The placement of these items has been refined over multiple tiny house builds.
The cost of building your own tiny home vs buying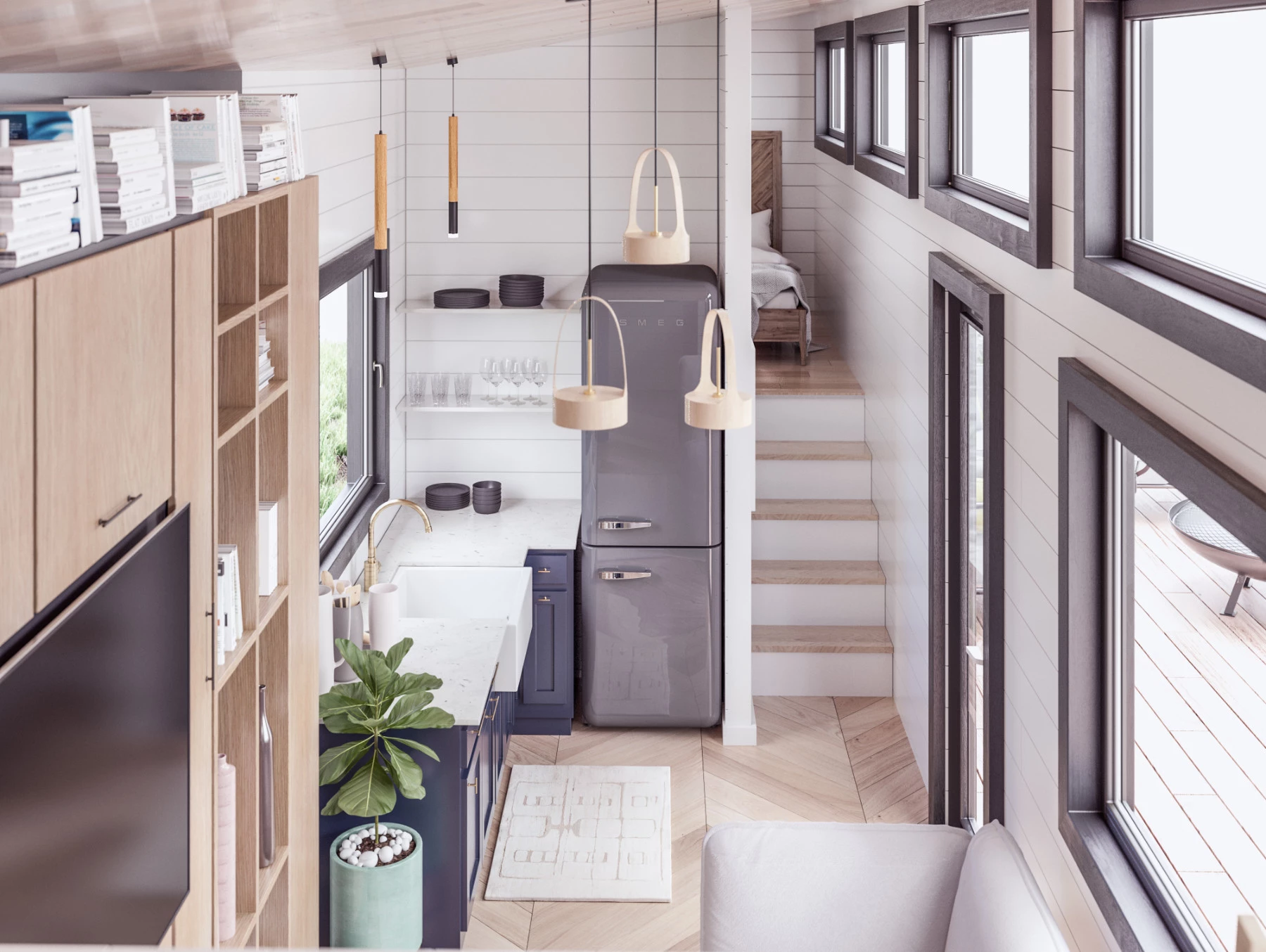 Why build your own Tiny home then buying one. The answer is very Simple it a lot more fun and you can say you have build your own dream home with your bare hands. Also it cost about $10,000 to build it yourself vs up to $35,000
"When surveyed first-time builders of small homes, whose costs ranged from $12,000 to $35,000. But it's possible to build a tiny home for less than $10,000: One couple paid $8,000 to build their 24-foot-long, 8-foot-wide, 13-foot-tall tiny house"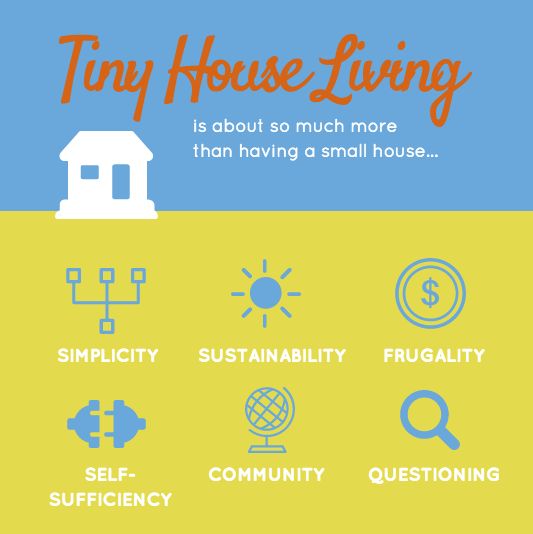 If you want your perfect dream tiny home that you can build yourself, Tiny Home Builders has the best Tiny home design. With there selection of plans you are a few steps away to your new home. they cover plans from different sizes to number of bedrooms you need. Remember its not just a home but a home you can build yourself to save you $1000s.
click on the button below and it will take you to there Element design which comes in different sizes 20 feet, 24, 28 feet and 30 feet.